Main content starts here, tab to start navigating

A New Twist - the Wedding Pie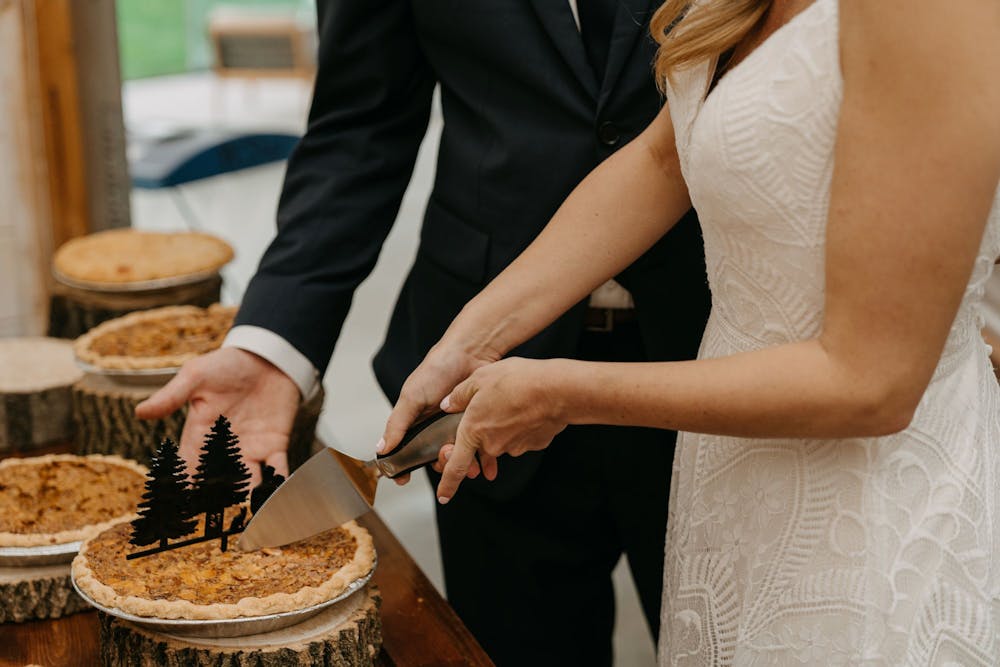 A New Twist - the Wedding Pie
There is just something about pie. It's delicious for sure. It's comforting, no doubt. It's a great dessert to have at an event – a total classic.
And there is one event that our pies have become a very important part of, weddings! Here at Stockholm Pie we do Wedding Pies for weddings throughout the region all year long.
There is a saying around here… Cake is just so not….Pie! Pie is the perfect way to make a statement on your special day. It shows all the guests that you care enough to have pie! Pie lets folks know you are not just the run-of-the-mill wedding, it lets folks know you have delicious taste, and it lets people know that they are more than just guests, but family. Pie is how we celebrate as families, now it's the hot choice for celebrating at your wedding!
Pie can be a beautiful centerpiece, surrounded by more pie, and what could be better than more pie?! Or you could feature our amazing pie cookies – you heard that right – 3 inches of amazing. Our pie cookies are the same famous crust as our big pies, with more amazing crust per bite! There all are kinds of fillings that we can do for you, even something special just for your day! They make a great standalone choice or as a part of a dessert bar. Yum. We can also help with gluten-free options and all our double crust fruit pies are naturally Vegan!
Whether it's a selection of slices, a buffet of 6-inch pies, or a beautiful array of Pie Cookies, we can make it just for you. Delivery is available to your venue too!
One thing to consider is that it helps to let us know as soon as you can about the date for your event, the spots for wedding pies fill up fast every year.
AND, did you know that we can help with hosting and catering for your groom's dinner, wedding shower, or any other event or family gathering? We can seat up to 60 in our beautifully restored Opera Hall Event Center. We offer some super delicious, super fun menus for your dinners. You can check out our offerings at the Stockholm Opera House Event Space.
We would also love to help you with wedding party lunches on the day of the event, after-party food, or 2nd supper at the dance.
We would love to help you celebrate, give us a call at 715-442-5505 or contact us on the website at Wedding, Events and Catering.