Main content starts here, tab to start navigating
Year of Pie Sweepstakes Announced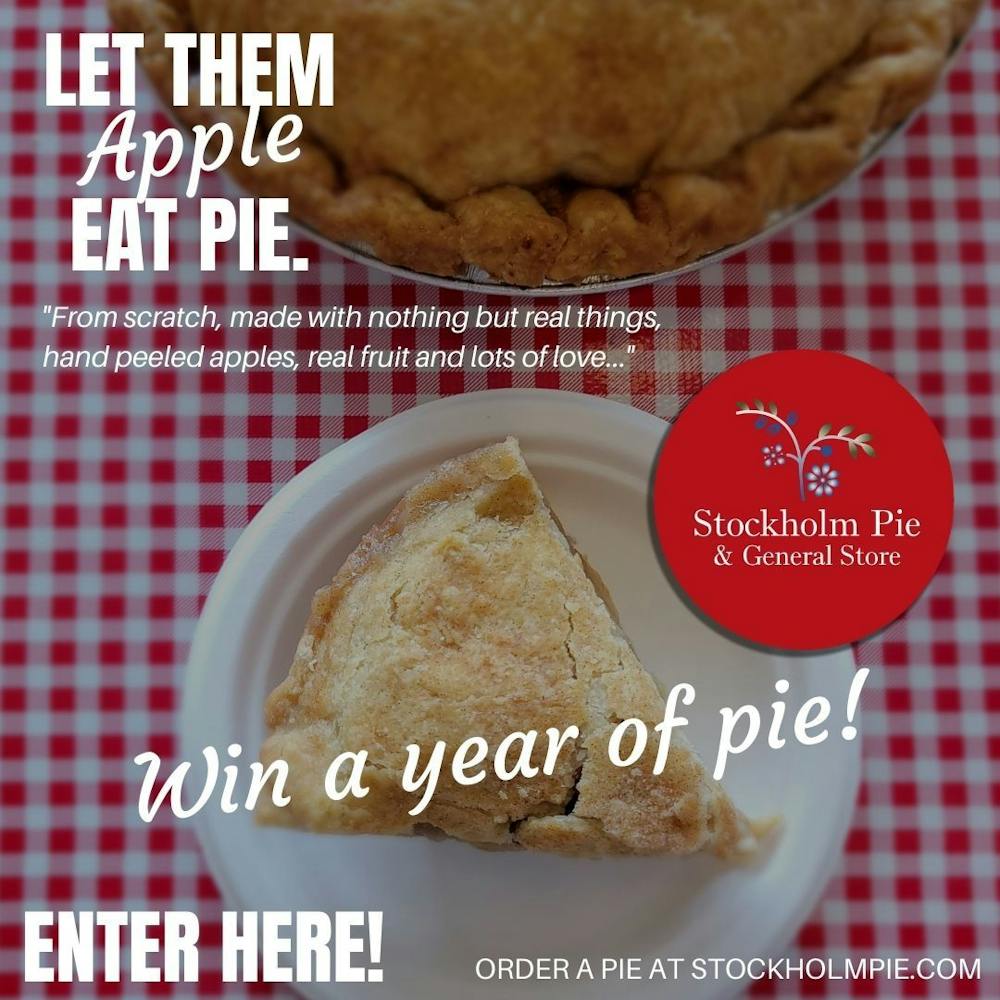 Stockholm, WI (May 2022): Stockholm Pie and General Store located on the banks of the Mississippi River along Wisconsin's Great River Road is offering the nation a chance to win a "Year of Pie".
Stockholm Pie has been crafting handmade from scratch, no mixes, no fillers, no canned fruit "just like grandma used to make" pies since 2008, and was also named "Best Pie" by River Travel Magazine in 2021 and 2022.
This year, Stockholm Pie is looking to celebrate its history and new online ordering and shipping programs available nationwide, with "Stockholm Pie and General Store's Year of Pie'' sweepstakes. Visitors to www.stockholmpie.com may order online and pick up the famous pie at either their Stockholm, Wisconsin location or their Minnesota satellite in Red Wing. Now customers can also choose to ship a selection of their favorite pies to themselves, friends, and family all over the country.
Some of the first pies to be available to ship include some fruit classics including Classic Apple, Caramel Apple Crunch, Stockholm Apple, Blackberry Apple, Blackberry, Raspberry, Blueberry, Blueberry Peach, Blueberry Peach Crisp, Bumbleberry, Cherry, Cherry Berry and Peach.
Although the Village of Stockholm has a population of only 79 residents, it is home to some of the most acclaimed pie in the state of Wisconsin. Stockholm Pie stands apart with all real ingredients. No can of anything goes into their pies. Every crust is made from scratch, one at a time with a secret recipe that still makes every pie exactly the way they were the day Stockholm Pie & General Store opened.
"We are so excited to have an easy to use platform for folks to not only order our famous pies to pick up but also now to ship to you! We can't wait to custom craft a pie just for you!" Alan Nugent - Owner, Stockholm Pie and General Store
For those in the area or driving by, Stockholm Pie has two locations to make getting your pie fix even easier, the original store in Stockholm, WI (N, 2030 Spring St, Stockholm, WI) or their satellite outpost in Red Wing, MN (2000 Old W Main St, Red Wing, MN)
What people are saying about Stockholm Pie:
"One of the 18 legendary pie shops in the country" - USA Today
"One of the hundred best places to eat in America" - Road Food Guide
"Pie Heaven" - NPR's Splendid Table
"Best pie in WI, one of 50 best in the US. - Tasting Table